J21S Power Press Machine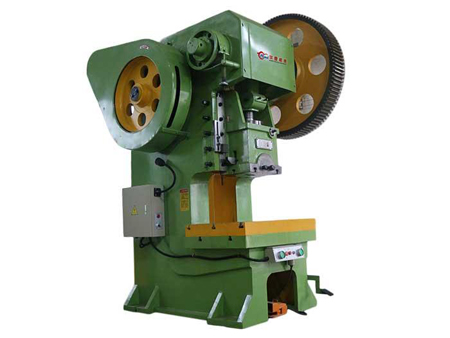 Introduction
The J21S power press machine features a steel plate welding bed that has an outstanding vibration absorption. The throat features a certain depth and compact structure to ensure a safe operation.
Parameters
Parameter name
J21S-40T
J21S-125T
Nominal pressure kn
400
1250
Nominal working stroke mm
6
10
Slide stroke mm
100
140
Slider stroke number t/min
55
45
Maximum shut height mm
320
400
Closed height regulation mm
80
100
Distance from the centerline of the slider to the bed mm
500
500
Table size
Length mm
400
660
Width mm
650
980
Worktable blanking hole size
Length mm
170
260
Width mm
240
400
Diameter mm
160
210
Total dimensions of slider bottom
Length mm
220
360
Width mm
300
480
Die handle bore
Diameter mm
50
70
Depth mm
70
90
The distance between two columns of the machine body mm
260
370
Net distance between worktable and track mm
340
430
Pad thickness mm
80
110
Motor
Power kw
4
11
Speed r/min
1440
1460
Size of shape
Length mm
1800
2200
Width mm
1100
1500
Height mm
2400
2800
Component description
The main components of the press include the following: Machine body, Transmission, Clutch, Slider, Brake, Control mechanism.
1. Machine body
The machine body is a cast component of the c-shaped open double column. The workbench has a rectangular hole in the center to allow finished work pieces or scraps to fall through.
2. Transmission
The transmission system is powered using a motor mounted on the back of the fuselage.
3. Clutch
The clutch member is positioned at the right end of the crankshaft. The clutch key is a semicircle key that relies on a pull spring in order to be placed into a regular open state.
4. Slider
The slider is located between the fuselage guideway. The slider moves straight up and down in the V-groove of the guide rail using the crankshaft rotary motion.
5. Brake
The brake wheel is circular and attached on the left end of the crankshaft. It is a continuous brake, with the belt made using a soft steel leather, or internal riveted copper asbestos brake tape.
6. Control mechanism
This machine uses a mechanical manipulation mechanism to control the slider for single punching with a foot lever.
Anhui Huaxia Machine Manufacturing Co.,Ltd.
Address: No. 3590 Liaohe East Road, Bo Wang New Area, Ma'anshan City, Anhui Province
Contacts: Ms.Xia ECHO
Tel.: +86-18655592716
Fax: +86-555-6065208
E-mail: echo@ahhxjc.com