Hydraulic Door Skin Press Machine
Hydraulic Door Skin Press Machine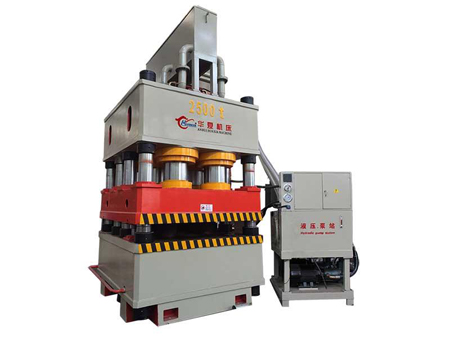 Introduction
The hydraulic door skin press machine has a main engine consisting of the engine body, main cylinder, ejection cylinder and filling valve. It also features a control system that consists of the power mechanism, limiting device, hydraulic remote control device and electric control box.
Parameters
Specifications and models
Y78-3000T
Nominal force (kN)
30000
Return force (KN)
435
Slide stroke (mm)
500
Maximum working pressure of hydraulic system (MPa)
25
Slider travel speed
Rapid down(mm/s)
100-120
Slow down(mm/s)
7-12
Return speed (mm/s)
100-120
Table size
Length(mm)
2500
Width(mm)
1500
Total power(KW)
30KW+30KW=60KW
Plunger cylinder diameter(mm)
ZSG500 X500 X 6
Column diameter(mm)
265mm X 4, 195mm X 4
Features
The hydraulic press is mainly consists of three sections, designed with 8 hydraulic columns.
The cylinder block is forged using GB/T699-1999 steel. The cylinder plunger is hard cold cast iron and the surface hardness is higher than HRC45.
Eight columns are made out of GB/T 699-2015 steel, quenched to HBS255-275. The surface hardness plated with hard chromium is more than HRC55. The guide sleeve is made of QT450-10 ductile iron.
The entire system uses a cartridge valve with a simple structure and reliable operation with no leaks, thus meeting the needs for high pressure and a large flow rate. The excellent heat dissipation performance reduce the reactive power loss.
Anhui Huaxia Machine Manufacturing Co.,Ltd.
Address: No. 3590 Liaohe East Road, Bo Wang New Area, Ma'anshan City, Anhui Province
Contacts: Ms.Xia ECHO
Tel.: +86-18655592716
Fax: +86-555-6065208
E-mail: echo@ahhxjc.com